Tear-and-Share Cheese and Rosemary Scones
Easy Dificultad

0 min Prep

12 Serves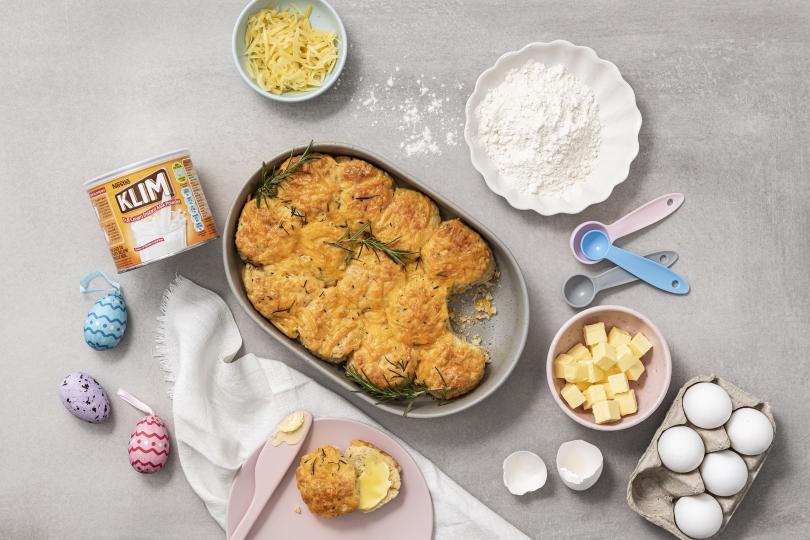 Lets Cook
STEP 1
Preheat the oven to 160 Degrees Celsius. Grease a medium-sized round, oval or rectangle baking dish.
STEP 2
Place the self-raising flour, baking powder and fine salt in a bowl and whisk to combine. Add the butter cubes to the flour mixture and rub in with your fingertips until a fine crumb remains.
STEP 3
To the flour-butter crumb, add the mustard powder, a crack of black pepper, chopped rosemary and grated cheese. Stir to combine
STEP 4
Make a well in the centre of the mixture and pour in the Klim combined with water. Gently mix together using a butter knife to combine being careful not to overwork the mixture.
STEP 5
Flour a surface and tip the dough out onto the surface. Pat the dough into a 2cm-thick round. (Insert timing)
STEP 6
Using a 6cm diameter round cutter, cut 12 rounds of the dough and place in the greased dish, packed tightly so the edges touch.
STEP 7
Brush the top of the scones with the beaten egg and sprinkle with a little more grated cheese and some rosemary sprigs.
STEP 8
Bake in the preheated oven for 15 – 20 minutes and serve just from the oven with soft butter.